On Tuesday (31/07/18), the ANGIN team attended a talk on Women in Tech hosted by @america.
The talk featured 2 prominent women leaders in the tech industry: Mary Ellen Muckerman (VP of Branding & Marketing at Mozilla) and Aulia "Llia" Halimatussadiah (Co-founder of 3 startups and Managing Director of Girls in Tech).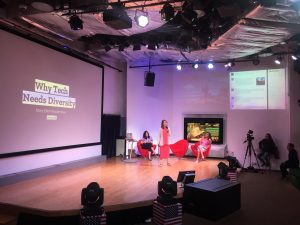 As an enterprise that deals closely with both women empowerment and the tech industry, this talk was extremely insightful and inspiring. Mary Ellen talked us through the importance of gender and ethnic diversity in the workplace, and how this has a direct impact on workplace productivity and efficiency. Llia also shared a captivating presentation that featured her journey from a curious 6 year-old to a successful female tech entrepreneur, and how hopes that her efforts to create a stronger female workforce in Indonesia's male-dominated tech industry will prevail. Both Mary Ellen and Llia emphasized how in today's ever-changing world, technology is becoming more ubiquitous, yet gender diversity in the industry is decreasing.