[CALL FOR APPLICATION] GK-Plug and Play Indonesia Accelerator Program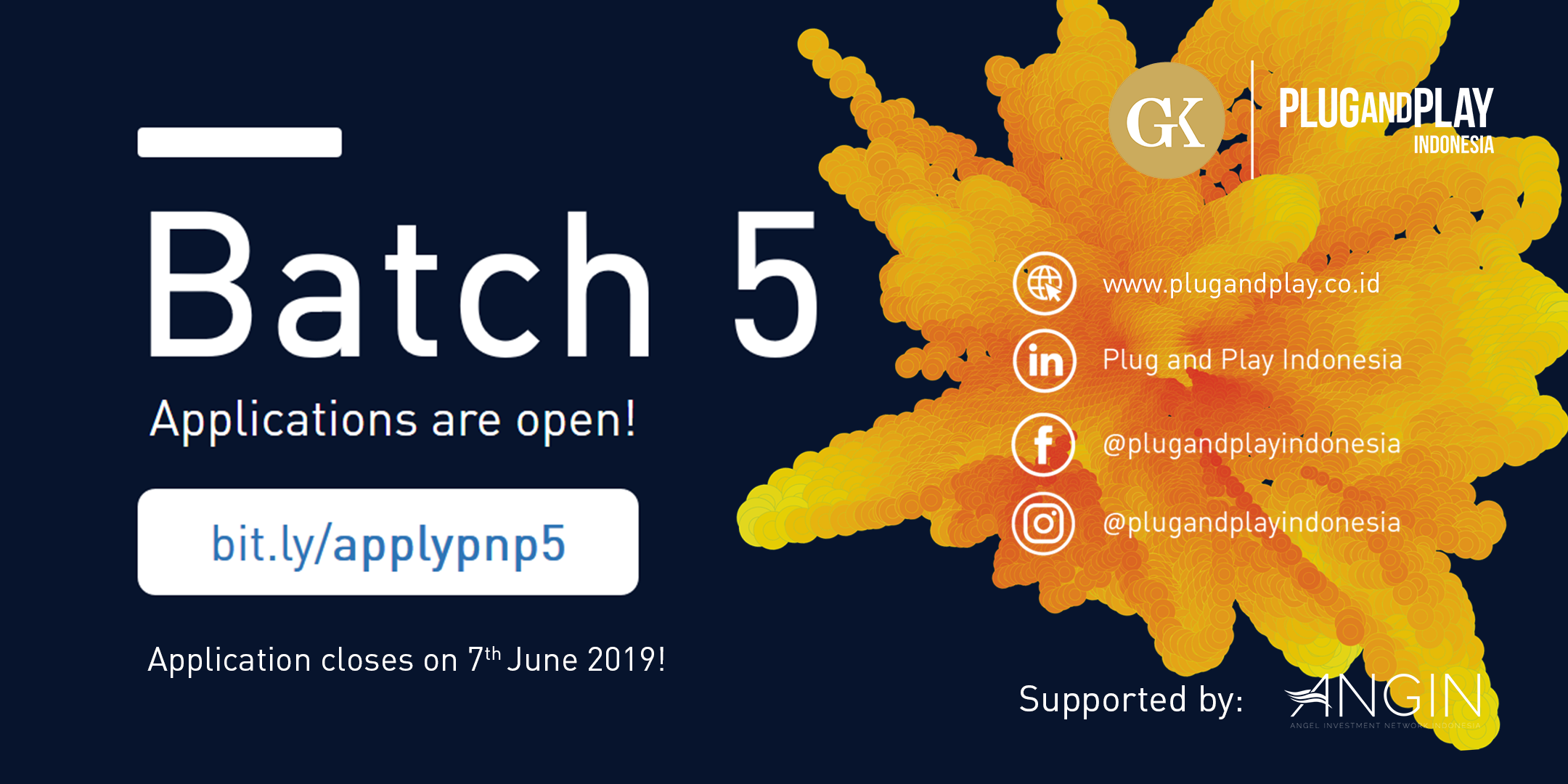 GK-Plug and Play Indonesia are looking for the next technology startup to join their acceleration program.
Plug and Play is Silicon Valley-based startup accelerator.  Their programs have expanded worldwide to include a presence in over 20 locations globally giving startups the necessary resources to succeed in Silicon Valley. In Indonesia they are the only startups accelerator has been endorsed by President Joko Widodo.
They have accelerated 53 startups in Indonesia. They are experts in facilitating meaningful introductions, investing in startups, and bringing together key stakeholders into one world-changing network.
Now, they are going to launch our Acceleration Program for Batch 5 and they are officially open their startup application to join their innovation platform (please submit your application before June 7, 2019)
GK-Plug and Play Indonesia 3-months acceleration program will provide the startups with the following benefits:
1. Opportunity to expand your market to Indonesia
2. Opportunity to collaborate with giant corporations (Astra International, Sequis Life, BNI, Sinarmas, BTN and Great Giant Pineapple)
3. Direct mentorship and workshops from successful entrepreneurs and industry leaders
4. Up to $60,000 value of free tools, services, and startup program
5. Opportunity to network with local and international investors
6. 3 months of co-working space in elite area at Kuningan
7. Seed funding
8. Exposure to media
9. Opportunity to meet regulators
10. Access to Silicon Valley and the global technology community
11. After the program, you'll be given a chance to present your startup in front of hundreds of investors, government, our corporate partners, and media.
Terms & Conditions:
1. There is no application fee associated with the program.
2. Any late submissions will not be considered.
3. GK-Plug and Play reserve the right to use contents submitted throughout the application process for publicity materials, including but not limited to, Startup Company profile and introduction video.
4. By applying to GK-Plug and Play program, you agree to be a part of the ecosystem, thus receiving invitation and/or updates regarding future events and programs.
5. Decisions in respect of all matters to do with the program will be final and no correspondence will be entered into.
6. GK-Plug and Play reserve the right to change the program timeline at any time, so please check your email regularly for important updates.
7. GK-Plug and Play reserve the right to change these terms and conditions at any time, and by applying to the program, you agree to abide by the most recent version of this.
To Apply:
1. Fill out online form here
2. Attach your most recent pitch deck.
3. Submit the application We are looking forward to have you join us!