[UPCOMING] GIST INDONESIA INVESTORS TRAINING 2019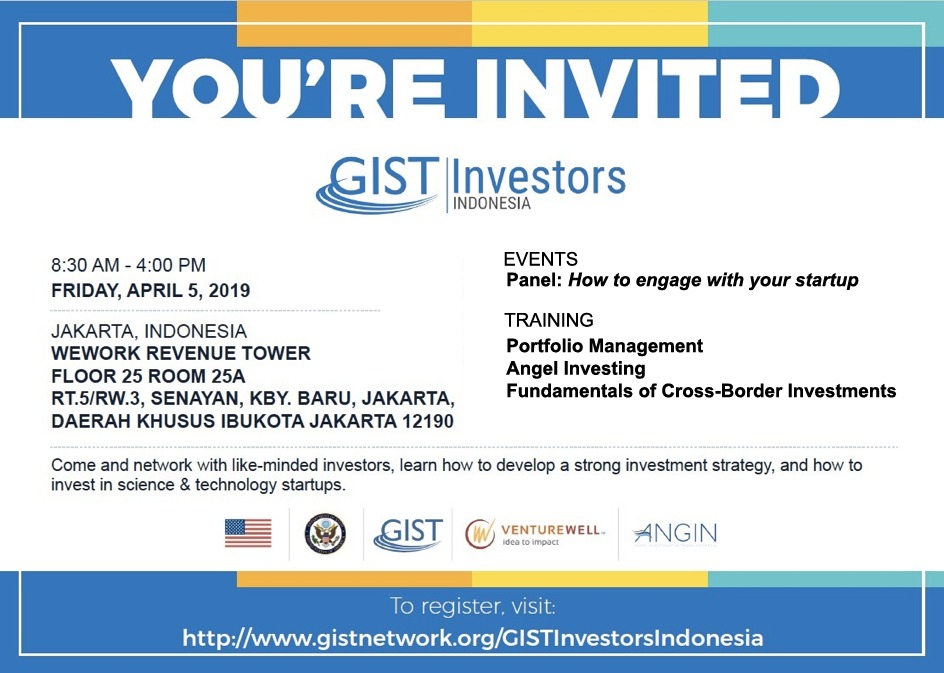 There is a lot an investor can learn from analyzing startup failures, including how to identify key risks in other startups and how to mitigate them.  We would like to invite you to join GIST Investors Indonesia Training, an event created by Venture Well and ANGIN, exclusive for angel investors members of ANGIN. This event will invite several distinguished speakers, such as:
Melissa Bradley – 1863 Ventures

Faz Bashi – Lead Venture Investor

Gwen Edwards – Angel Resource Institute

Eli Velasquez – Director of VentureDevelopment at Venture Well
GIST Investors Indonesia training will also invite several figures in Indonesian investment scene, namely:
Mariko Asmara – Chairwoman of JAC Recruitment, an angel investor who has invested in startup

Vikra Ijas – Chief Product Officer at Kitabisa.com, a startup that has received investment from angel investor

Aurora Nia Pratiwi – Founder of ANC Attorneys at Law, an experienced corporate lawyer
The training will discuss various topics such as "How to engage with your Startup", "Negotiations Exercise", and "Fundamentals of Cross-Border Investments".
This event will take place on:
Date: Friday, April 5th 2019
Time: 08.30 AM – 04.00 PM
Place: WeWork Revenue Tower, 25th Floor, SCBD, Jl. Jend. Sudirman No.52-53, Senayan, Kby. Baru, Jakarta, Daerah Khusus Ibukota Jakarta 12190